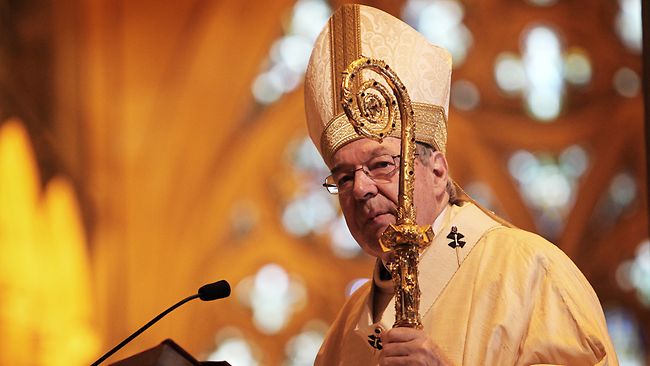 I have just recently come back from the day at Buckfast Abbey and the Mass celebrated by Cardinal Pell. Concelebrants from the Ordinariate were the Ordinary, Mgr Newton, Fr Simon Chinery, Fr Colin Furness, Mgr David Silk, Fr Bernard Sixtus and myself.
Also present were Bishop Mark O'Toole and Bishop Philip Egan.
The Abbey was absolutely packed to the rafters. There must have been 40 or 50 concelebrating priests, some coming from other abbeys or communities (incl other Benedictines and Oratorians), as well as some local and visiting diocesan clergy.
In the stalls were also sisters from various communities including Mother Winsome of the Ordinariate's own Benedictine community.
The stunning music was led by the abbey's music director, Philip Arkwright. The Gloria and Agnus was from

Missa Brevis

by Zoltan Kodaly. There was also music by Bach, Rachmaninov, William Byrd and Widor, as well as of course Gregorian chant from the tradition of the church.
A peal of newly restored bells had heralded the beginning of mass. The fine organ accompanied the music other than the chant. And finally trumpets played a recessional fanfare (by Susato).
His Eminence spoke, often very directly, about the great hopes that are embodied in the School and gave his wholehearted support. He noted how of course such things that show great promise will of course be attacked by the enemy. Even Our Lady was not insulated from this after the Annunciation. He paid tribute to their intended fidelity to the magisterium and the offering of something that was not just academics but that appeals to the whole person, which was also very much helped by being in such a fine Benedictine Abbey. He emphasised in his message that our task was really to be faithful and to persevere especially through those times when it seemed perhaps things were not going our way - nevertheless it was not success that was to be measured but faithfulness.
It was an exceptionally fine occasion that had attracted faithful catholics from all around the country. It was inspiring to meet them and His Eminence who spoke very freely to many people there. The Abbot and his team are to be congratulated on such a wonderful occasion, and the staff of the School for their great faith and inspiration.
The School of the Annunciation has been founded on the solid ground of the redemption of Jesus Christ, brought through the cooperation of the Blessed Virgin Mary, and her "yes" to God. One could not fail to be inspired by such an occasion. May the School of the Annunciation by the prayers of the Holy Mother of God, and under the protection of the Holy Angels, grow by grace into what God intends.
Fr Ian Hellyer
PS To my brothers of the clergy: there are still places available on the Catechetics for clergy course, this Autumn.